"The DIDGERIDOO Discovery"
Andrea Ferroni – Alberto Furlan (2006)
Il libro è stato stampato dall' Associazione Culturale Yidaki in un numero limitato di copie. Gli argomenti trattati sono stati spiegati nella maniera più esaustiva possibile compatibilmente con lo spazio disponibile su questo volume; tuttavia, chiunque desiderasse maggiori informazioni riguardo ad argomenti specifici o volesse esprimere dubbi, perplessità, critiche o complimenti, non esiti a contattarci; saremo lieti di rispondervi.
Ora è disponibile in rete gratuitamente per poter essere aggiornato più facilmente.
---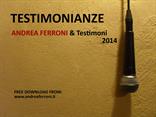 TESTIMONIANZE
Andrea Ferroni & Testimoni – Italy (2014)
17 tracks – Timing: 60 min.
ITA – Un lavoro ampio e completo. Si trova un brano solista di didgeridoo. In altri brani funge da accompagnamento. L'opera raccoglie voci e testimonianze dirette di molte persone conosciute dall'autore. Tutte le voci (eccetto per il featuring di Lord Theremin) sono voci autentiche e non di professionisti.
ENG – A real artwork of music. Suitable for Italian speaker mostly, it contains dialogues from people the author met in his life.
---
"Windproject 2008" Didgeridoo solo
Andrea Ferroni – Italy (2008)
16 tracks – Timing: 58 min.
ITA – Un Cd di didgeridoo solo che raccoglie numerose tracce in cui il didgeridoo compare come suono puro, senza effetti o contaminazioni forti. Un lavoro essenzialmente basato su ritmi e groove, in cui compaiono piccoli virtuosismi, suoni puliti e precisi… e un po' di fantasia. Brevi intermezzi di scacciapensieri (dan moi) ed un flauto migliorano la godibilità di "Windproject 2008".
ENG – "Windproject 2008" is a collection of didgeridoo solo tunes. The perfect album if you like rhthms and grooves played with short virtuoso parts.
---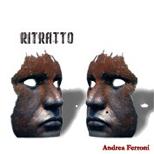 "RITRATTO" – Andrea Ferroni – Italy (2007)
heavy experimental / contemporary music
6 tracks – Timing: 45 min.
ITA – Un lavoro molto personale che si basa su sperimentazioni ardite in cui talvolta si è rimanipolata a tavolino la forma d'onda rendendo il didgeridoo irriconoscibile pur rimanendo fondamentale per l'ottenimento di simili atmosfere. altre volte gli strumenti sono usati totalmente in acustico, come il dan moi che è suonato in modo da assomigliare al didgeridoo.
ENG – RITRATTO represent an extremely personal artwork base on experimental manipulations of didgeridoo waves. The perfect CD if you like contemoporary and experimental music.
---
MITUMBA LIVE @ GIANCARLO MURAZZI
Andrea Ferroni, didgeridoo
Lord Theremin, Theremin – Italy (2010)
10 tracks – Timing: 48 min.
ITA – L'album live dei Mitumba registrato presso il locale storico di Torino.
Reinterpretazioni ed improvvisazioni su temi già conosciuti di Andrea Ferroni, altri brani inediti, accompagnano la psichedelia di Lorenzo Giorda al theremin.
ENG – This is the  live album by MITUMBA. It contains some famous and some inedited tunes by Andrea Ferroni. The theremin played by Lorenzo Giorda sound psichedelic.
---
"Breaking Through" – Andrea Ferroni & Friends
Andrea Ferroni – Italy (2006)
16 tracks – Timing: 58 min.
SOLD OUT
Free Download
ITA – Questo progetto unisce ad un didgeridoo generalmente suonato puro a collaborazioni di vario genere, dalla contemporanea al jazz a musica di facile ascolto, oltre a qualche pezzo solista.
ENG – This project joins the didgeridoo, generally played pure, to various collaborations. You can listen example contemporary, jazz or easy listening music. Some solo pieces are still present.
---
"Tribal Revolution" – Andrea Ferroni & Riccio
Andrea Ferroni – Italy (2005)
9 tracks – Timing: 39 min.
ITA – Improvvisazioni di didgeridoo su basi elettrocustiche realizzate da Riccio.
ENG – Didgeridoo improvvisations on electro acoustic backgrounds realized by Riccio.
---
"Noises & Voices"
Andrea Ferroni – Italy (2004)
8 tracks – Timing: 30 min.
SOLD OUT
COVER & Audio files
ITA – Questo CD ha ormai più di 10 anni ma rimane in qualche modo ancora attuale. Registrato con mezzi di fortuna, fu molto apprezzato al punto che fu il biglietto da visita di Andrea Ferroni per poter suonare in moltissimi festival d'Europa. E' stato punto di riferimento per moltissimi musicisti che suonano tutt'oggi. Utile per chi voglia studiare questo strumento.
ENG – This CD is more than 10 years old but it is still a good example to get inspiration from. It has represented the Andrea Ferroni "calling card" to be invited in several festivals around Europe. If you are studying didgeridoo, you need to have it!
---
"Windproject"
Andrea Ferroni – Italy (2003)
13 tracks – Timing: 37 min.
NOT AVAILABLE
ITA – Il primo CD in assoluto di Andrea Ferroni. Nato per tenere traccia di ritmi e primi brani come fosse uno spartito musicale. Venne apprezzato dagli amici e fu quindi aggiunta una copertina.
ENG – The first CD of Andrea Ferroni. He made thi recording to take just note of rhythms and short proof of personal music.
---
"YIDAKI COMPILATION – Vol. I"
Various artist – World (2008)
22 tracks – Timing: 74 min.
Value: 10 euro
ITA – Una compilation di suonatori di didgeridoo di tutto il mondo, edita da "Associazione Culturale Yidaki".
Disponibile a 10€ più spese di spedizione. L'intero ricavato (spese incluse) saranno donate per costruire una scuola in Africa. più info QUI
ENG – A compliation with more than 20 great didgeridoo players from Europe, Australia, USA
---
"Compilation.Didgeridoo.IT"
Various artist – Italy (2005)
16 tracks – Timing: 58 min.
Sold out
ITA – La prima compilation di suonatori di didgeridoo Italiani. edita da "Associazione Culturale Yidaki".
ENG – The first compilation of Italin didgeridoo players.